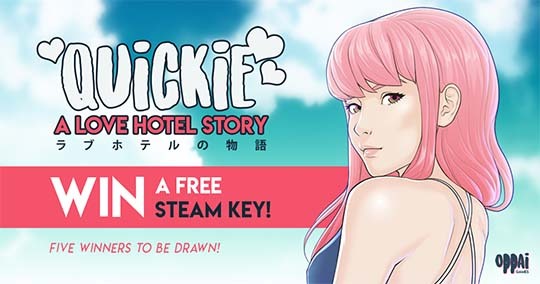 We're hosting a Steam key competition, with 10 free Steam keys up for grabs! 
You can enter the competition here. Simply follow the instructions to add entries to the pool and increase your chances!
As some of you may already know, having Quickie: A Love Hotel Story on Steam has been a long term goal of ours from the start of it's development... We're finally excited to announce that Quickie: A Love Hotel Story will be available on Steam Early Access this Friday, 17th of December PST!
Quickie: A Love Hotel Story on Steam will be a one off purchase of $19.99 USD (but there will be a release discount for those who get in early!). The Steam version includes Steam Achievements, Steam Cloud saves and will get all future build updates. The game will also release with language support for Traditional Chinese and Simplified Chinese.
If you're unable to view the Steam page, please make sure you're signed into Steam and you've enabled "Adult Only Sexual Content" in your preferences.